Located right next to Shinminato bridge and Kaiomaru Park!
Fresh seafood delivered directly from Shinminato fish port by Toyama bay which is said to be the natural fish preserve.
Welcome to Kitokito-ya, the fresh seafood market
We started this internet shop intending to deliver fresh seafood from Toyama bay throughout Japan.
Our specialties are, white shrimp, snow crab(crab), firefly squid(in spring), Himi yellow tail,
Black throat sea perch, and rare Genge fish(ugly bottom fish) acquiring a reputation of widest fish variety in Japan.
he cold water running from Tateyama moumtains of over 3000m(9000ft) high, pours into Toyama bay,which is the 3rd deepest bay following Suruga bay and Sagami bay.
In Toyama bay, the slope to the deep is very steep. Going off the coast for 2-3km(1,5-2mi)
will make the bottom about 800m(2400ft)deep in average, and the deepest reaches as deep as 1200m(3600ft).
In Toyama bay, there live about 500 of fish species, about 50 of crustacean and about 600 of shellfish, dominating 60% of all 800 species living in the Sea of Japan.
Thanks to this rich natural environment, Toyama bay is one of the best habitat for sea creatures.
Please try delicious fish and crabs of Toyama bay.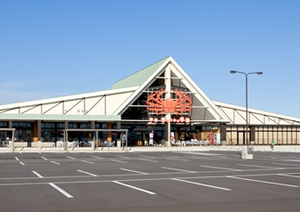 Shinminato Kittokito Market at Shinminato Fisherman's wharf is the seafood market, providing abundant seafood directly from Shinminato fishing port, such as white shrimp-the gem stone of the sea, snow crab, red snow crab, firefly squid, yellow tail and whelk, etc..
■ 25 min. drive from Kosugi IC, Hokuriku Express Way.
■ 25min drive from Shin-Takaoka station of JR Hokuriku Shinkansen. 20 min. drive from Takaoka stn. of Aino-Kaze railroad.
■ 45-75min. ride on "Toyama Buri-Kani bus" from Toyama stn. of JR Hokuriku Shinkansen or Toyama airport.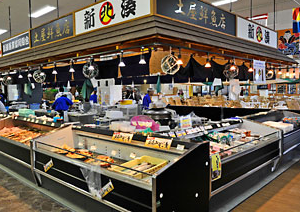 Enjoy super pristine Fresh Seafood World that the fishermen's head and the fish connoisseurs collaborated! Ex-Shinminato city(now Imizu city) of the seafood land in Toyama prefecture.
The market is the joint store between Tsuchiya Seafood who has been a fishmonger for a long time in this fishing town and Washikita Suisan Company who experienced various fishery and currently is operating fishing and seafood processing based on stationary trap fishery.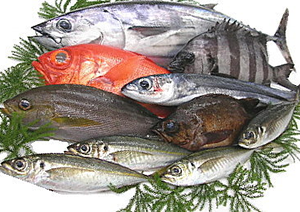 "I have an absolute confidence in my eyes as a connoisseur on fish freshness. Just try and experience surprisingly pristine fresh seafood world!!)"
-You can eat the seafood sold in the market on site (boil, broil, or in sashimi)
-You can glut with not only morning catch fish, but also fresh seafood from the day auction (which is rare in Japan) brought directly from Shinminato fishing port.